Let's start things off this year by wishing everyone "Happy New Year" and cheers to the magic we'll make together in 2020 and beyond.
Now that Christmas is over and we are already well into the new year, it's time to check out the best apps that made the cut in 2019. So if you recently got a new phone (Android or iPhone), tablet, iPad or Chromebook that runs Android, you may be looking for few quality apps to push your new gadget to its limit. This is why we've painstakingly selected a few of the (based on our opinion) best apps of the year. So without further ado, let's jump in!
1. MICROSOFT AUTHENTICATOR
Microsoft offers an authenticator app on Android and iOS. Microsoft has been sort of encouraging users to opt-for device prompts to verify the details. This app is available on mobile platforms, the app also supports Apple Watch.
Setting up the app is quite simple. You can either scan a QR code or enter the code manually to set the service up. Once you are in, the app displays the code with a countdown timer, and you can either hide the code or simply copy it.
Microsoft is using the same design flow across the platforms. To login to your Microsoft account, the authenticator app sends a notification and which you can simply allow or deny the request without even opening the app.
Download Microsoft Authenticator app for Android and iOS
2. BLACKBOX
Blackbox is a professional call recorder developed to be a reliable tool for automatic call recording. This app was designed with a clean interface Blackbox encompasses advanced call recording technology on a robust utility platform.
Download Blackbox app for Android
3. DUMPSTER
Dumpster offers a quick, easy way to recover and restore your video and picture files. If you accidentally deleted an important photo or video, you can undelete your media files, apps and other files in seconds. Dumpster also offers cloud storage and some extra security features.
 Download Dumpster app for Android 
4. GOOGLE KEEP
If you are an Android user, chances are you have this app on your phone and you're already using it. Google Keep app makes it to our list basically because of its simplicity and how effective and vital it is to an average smartphone user. This app easily helps you offload ideas, thoughts, and to-dos without losing focus for any reason.
You can add collaborators to your notes and lists so as to get things done faster and together, add photos and even draw on them, and add color notes for easy scanability.
The utmost fun part of this app is that you can access your notes on any device. synced automatically to your phone, tablet, watch, and laptop via the Google Keep website, or Chrome app.
 Download Google Keep app for Android and iOS 
5. ADOBE LIGHTROOM
Adobe Photoshop Lightroom is a free, powerful and intuitive photo editor and camera app from Adobe Systems Incorporation, the creators of Adobe Photoshop app. Lightroom empowers you in your photography, helping you to capture and edit stunning images.
With easy-to-use image editing tools like sliders, or filters for pictures, Lightroom makes photo editing simple. Retouch full-resolution photos, apply photo filters or start photo editing wherever you are. Adobe Lightroom also makes it easy to access all your Lightroom presets anywhere, and retouches and image edits on one device are automatically applied everywhere else.
 Download Adobe Lightroom app for Android and iOS 
6. GOOGLE PODCASTS
Google Podcasts is quite a new kind of podcast player exclusive to Android users at the moment, where they can discover and listen to the world's podcasts. Just like every other podcast app out there, you can subscribe to any podcast for free and download episodes for offline playback. All your listening is automatically synced across devices so that you can pause on one device and resume on another with the evergreen Google Assistant.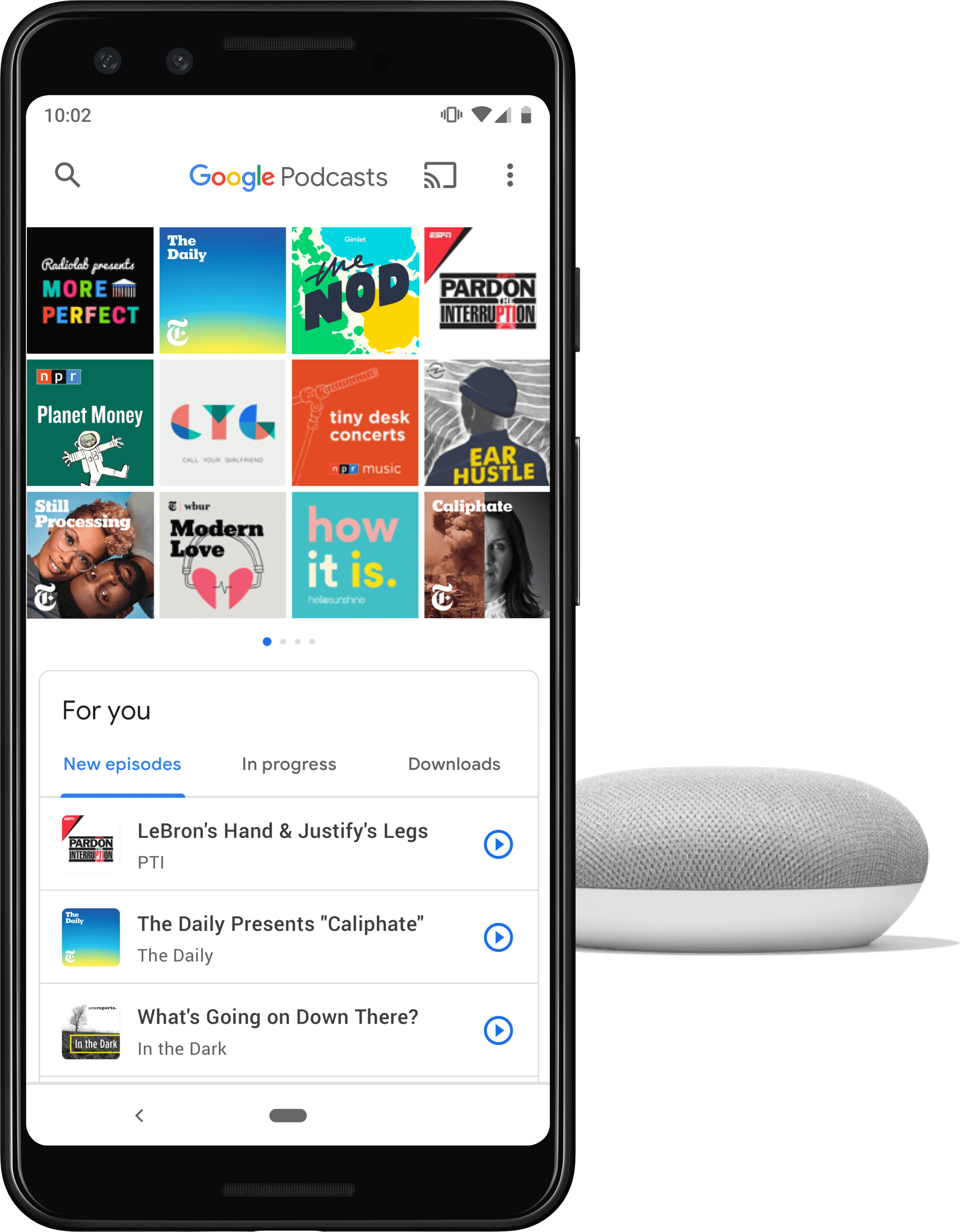 What makes Google Podcasts unique is the fact that the app is small in size but it does wonders considering you can listen to virtually all podcasts on it with ease. The app is less than 2mb (megabyte) in size.
 Download Google Podcasts app for Android 
7. WANNA KICKS
Wannaby, an Augmented Reality (AR) commerce startup from Belarus, is testing an app that lets you virtually try on any kind of shoe.
With the Wanna Kicks app, you can browse labels like Nike, Vans, and Adidas. All you need to do is choose a pair and point your smartphone camera at your feet to "try them on."
Once you have a virtual pair on you can customize which color looks best for you and if you find a pair you like, purchase them in the app.
It also appears that the AR shoe can keep up with you if you're walking or rotating your feet. It also takes note of the lighting in different rooms.
 Download Wanna Kicks app for Android and iOS 
8. GOOGLE PRIMER
The Google Primer app debuted on the Google Playstore in October 2014 and has since then racked up over 10 million-plus downloads and counting. The goal of the app was to teach people the concepts of Digital Marketing in a digestible, "gamified" format which will be interesting to users of the app.
Primer is a free, fast and easy way to learn new business strategies and digital marketing skills. Primer works offline too, so you can basically take a lesson on business planning, management, sales, digital advertising, social media, content marketing, SEO, analytics, branding, and more whenever you have 5 minutes free – anytime, anywhere.
 Download Google Primer app for Android and iOS 
9. SCREENSHOT GO
Firefox ScreenshotGo is quite an unusual app that allows you to search your screenshots by text and provides a simple overview of all your screenshots in an organized, easy-to-find way.
The app is still under development which means it's still in beta stage but it's really worth giving it a trial.
 Download Firefox Screenshot GO app for Android 
10. GOOGLE TASKS
Gmail and Google Calendar have for long offered an integrated tasks list except for quite a while, there was no way to access those tasks on mobile. Then came Google Tasks offering Android and iOS versions to complement the web version.
The app itself is a bit fancy. Adding tasks is swift, particularly if you spend tons of your time in the Gmail app, but overall, there aren't many features. Except for basic stuff like due dates, lists, there's nothing else.
Google task isn't the most featured packed task list app, but surely the best to-do app is one that's always handy. If you're the kind of person who always has Gmail open on your computer, it's hard for any application to be handier than Google Tasks. The mobile versions make those tasks accessible on the go.
 Download Google Tasks app for Android and iOS 
11. GOOGLE RECORDER
Last year at Google's October hardware event, Google announced and introduced the Google AI-powered voice recorder app. Though this app is only exclusive to Google's Pixel smartphones at the moment, we just have to acknowledge and admit that this app is one of a kind.
Specially designed by Google, this app taps into advances in AI (Artificial Intelligence), speech processing and speech recognition in order to automatically transcribe a voice recording with few mistakes, in real-time as the person is speaking.
While there are tons of voice recorder apps on today's market, there are few that offer real-time transcriptions like the Google voice recorder app. Google Recorder app also brings the power of search to audio recording. Recorder automatically transcribes and labels what you record so you can easily find the parts that matter to you.
Pixel users can download the recorder app here while other Android users that want to try out the app can download from here.
12. GOOGLE LENS
Google Lens is an AI-powered technology that uses your smartphone camera and machine learning to not only detect an object but understand what it detects and offers actions based on what it sees and what the result is.
Though Google Lens has been around since 2017, it still stays among the best few apps one can download on the Google Playstore; thanks to the frequent updates being pushed to the app.
You can do a whole lot of things with Google Lens such as scan and translate text, identify plants and animals, explores places around you and even scan QR codes.
 Download Google Lens app for Android